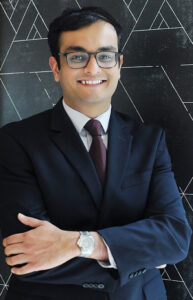 Raj Patel is a litigator and trial lawyer. He defends businesses and their officers/directors from lawsuits and investigations in Virginia and Washington, DC.
Raj's practice focuses on complex contract disputes, investment fraud, corporate governance, RICO, the false claims act, real estate, and government contracts. He also litigates eminent domain cases on behalf of the Commonwealth and serves on Alexandria's Board of Zoning Appeals. Raj has defeated tens of millions in alleged claims against his clients.
Prior to joining the firm, Raj clerked for the Office of United States Attorneys and the Honorable Judge Charles E. Poston (retired) of the Norfolk Circuit Court. Raj earned his law degree from William & Mary Law School, where he enjoyed representing individuals against the IRS as a member of the Tax Clinic. He earned his undergraduate economics degree from the University of Chicago.
Though all cases vary, and none is predictive, the results of Raj's recent work include:
Lead counsel at trial for a national credit union, who won dismissal of claims involving commercial paper and third-party financial fraud.
Securing pretrial dismissal of investment fraud claims brought by EB-5 investors involving an electric vehicle manufacturer.
Securing pretrial dismissal of investment fraud claims brought by foreign investors involving a large scale commercial real estate development in Kyiv, Ukraine.
Counseling real estate developer of $83 million project in North Carolina in connection with statutory books and records demand and securing dismissal of case brought by a minority investor.
Striking non-competition and non-solicitation claims against healthcare company and its owners.
Bar Admissions
2014, Virginia
2018, D.C.
Education
University of Chicago – B.A.
William & Mary Law School – J.D.
Awards